Here is a list of various over-the-counter ("OTC") preparations, PPE, home medical devices, and other things that have been recommended as assisting in keeping safe from Covid. This site does not endorse anything, and does not make recommendations, as always do your own research and due diligence.
NOTE: While we cannot and will not recommend particular products or resources, we do recommend that you always buy directly from the source whenever possible, and not through sites such as Amazon; your health and life are too important to risk buying a counterfeit (and thus less effective or ineffective) product.
None of the links on this site are affiliate links, we do not make any money from any of the links.
Over-the-Counter Preparations
Masks and Other Barriers
Home Medical Devices
Environmental Devices
Home Covid Tests
Over-the-Counter ("OTC") Preparations
IMPORTANT NOTE: When evaluating over-the-counter preparations, it is CRITICAL that you look at the exact preparations listed here, and check the ingredients as other, similar preparations, and other versions from the same brand, WILL NOT CONTAIN THE SAME INGREDIENTS.
ENOVID (ALSO KNOWN AS VIRX) ANTI-VIRAL NASAL SPRAY
Enovid was created and is manufactured by the SanoTize company. It is a nitric oxide ("NO") based anti-viral nasal spray, of which SanoTize says that "In multiple laboratory experiments, nitric oxide (NO) released from SaNOtize's nasal spray formulation inactivated more than 99.9% of SARS-CoV-2 (COVID-19 isolates) to below the limit of detection, for all variants tested to date, within two minutes of contact."
Enovid is approved in many countries, but not yet approved in the U.S. or Canada. However you can buy it from one of their approved distributors who can and will ship to the U.S. and Canada. The most well-known of these distributors is IsraelPharm.com
NOTE: As of this writing Enovid is said to be good for 60 days from the day on which you open and first use it, so it is recommended that you write the date that you open it with a Sharpie marker on the bottom of the bottle.
COVIXYL NASAL SPRAY
Ethyl lauroyl arginine hydrochloride (also known as ethyl lauroyl arginine hcl, or ELAH) is an ingredient that has been demonstrated to deactivate the SARS-COV-2 virus that causes Covid when used in the nose or mouth, thus rendering the virus unable to replicate and infect you. It is used in some mouthwashes (see below) and also in a nasal spray called Covixyl. A study looking specifically at its efficacy when delivered nasally was conducted at the University of Buffalo, and found it to be very effective (note that some of the lead authors work for Salvacion, manufacturers of Covixyl). You can get Covixyl at Walmart.
XLEAR NASAL SPRAY
Xlear is an over-the-counter nasal spray that is widely available at big-box drug stores such as Walgreens, CVS, et al, and which contains grapefruit seed extract ("GSE") and xylitol. Studies "done collaboratively by Utah State University and Northwestern University finds Xlear components (grapefruit seed extract and xylitol) significantly eliminates SARS-CoV-2, the virus that causes COVID-19. The imaging research study component was performed at the BioCryo facility of Northwestern University's NUANCE Center." There is also more information about this on Xlear's website. Among other places, you can get Xlear online at Walgreens.
MOUTHWASHES WITH CETYLPYRIDIUM CHLORIDE
Cetylpyridium chloride is an ingredient in certain mouthwashes. Studies have found that cetylpyridium chloride's antiviral effect can kill the SARS-COV-2 (SARS2) virus upon contact in an oral environment. This is why many (Covid-safe) dentists provide a mouthwash to their patients, during treatment, that contains cetylpyridium chloride, which their patients use immediately before and after their cleaning or procedure. Be careful as there are many sites on the Internet which say certain brands of mouthwash contain cetylpyridium chloride when in fact they do not, so be sure to check ingredients before ordering or purchasing. One such mouthwash that contains cetylpyridium chloride, at least at the time of this writing, is Crest Pro-Health Advanced Multi Protection Clean Mint, which you can get at Walgreens. Another is Dentyl Dual Action, which is imported from the UK and which is mentioned in this study; Dentyl Dual Action is available at Walmart.
MOUTHWASHES CONTAINING ETHYL LAUROYL ARGININE HYDROCHLORIDE ('ELAH')
Ethyl lauroyl arginine hydrochloride (also known as ethyl lauroyl arginine hcl, or ELAH) is another active ingredient used in mouthwashes (and also nasal sprays) that has been demonstrated to render the SARS COV2 virus inactive (i.e. to "kill" it) upon contact. This study determined that both ELAH and CPC (cetylpyridium chloride) were effective in deactivating the virus in the mouth when mouthwashes containing one or the other of these ingredients were used. At the time of this writing there is one mouthwash that contains ethyl lauroyl arginine hydrochloride and that is widely available online, which is Listerine Advanced Defence Gum Treatment (this, like the Dentyl with the CPC above) is imported from the UK. You can order the Listerine Advanced Defence Gum Treatment from Walmart.
BETADINE POVIDONE-IODINE GARGLE
Betadine Povidone-Iodine solution has been long-known to have antiseptic and antiviral qualities, including against SARS. In the Journal of Otolaryngology – Head & Neck Surgery, a recommendation has been made to use Betadine Povidone-Iodine gargle has a prophylactic measure to protect surgical staff from potentially being exposed by a Covid-positive patient during procedures involving the aerodigestive tract (i.e. from the mouth and nose down through the throat). The authors note that they make this suggestion "Because the reservoir for SARS-CoV-2 shedding is in the nasopharynx and nasal and oral cavities, the application of viricidal agents to these surfaces may reduce virus burden. Numerous studies have confirmed that povidone-iodine inactivates many common respiratory viruses, including SARS-CoV-1. Povidone-iodine also has good profile for mucosal tolerance. Thus, we propose a prophylactic treatment protocol for the application of topical povidone-iodine to the upper aerodigestive tract."
This is a recommendation based on Povidone-Iodine's success with SARS-CoV-1; to date there are no studies on the effectiveness against SARS-CoV-2. You can purchase Povidone-Iodine gargle at Walgreens.
LUMIFY BENZALKONIUM CHLORIDE EYE DROPS
Benzalkonium chloride, also referred to as "BAK" has known antiviral properties, including in eye drops. In a study by Bausch of their Lumify BAK eye drops "Bausch Health says its Lumify OTC redness reliever drops showed "complete inactivation" of COVID-19 in time-kill tests, with preservative compound benzalkonium chloride apparently the key reason. The in vitro findings prompted it to consider discussions with regulatory agencies on proposing a remedy for the virus."
The NIH has also published a study on Covid exposure through the eyes, and the effects of Benzalkonium chloride thereon. You can purchase Lumify eye drops at Walgreens.
Masks and Other Barriers
READIMASK
Readimasks are a completely different type of N95 mask; they have no straps, as they adhere to your face; they have been described as "a big bandaid that you put over your nose and mouth", with adhesive all the way around the edges. They are very comfortable (people have talked about sleeping in them).
They are reusable, and there are two basic versions: grey and yellow. The difference is in which adhesive they use (grey is acrylic adhesive and yellow is silicon adhesive; you can get more reuses out of the grey ones than out of the yellow ones for this reason). They also have ones with an integrated eye shield, those are not reusable.
Because of the unique way in which they adhere to the face, rather than being held on by straps, it is very easy to tell if you have a leak in the seal, as you will feel air going out when you exhale at exactly where that tiny leak is, and you can press to seal it.
Readimasks are officially NIOSH-rated at N95, but NIOSH's tests show that they are more like N99.
Readimask Test Results Show 99% Efficacy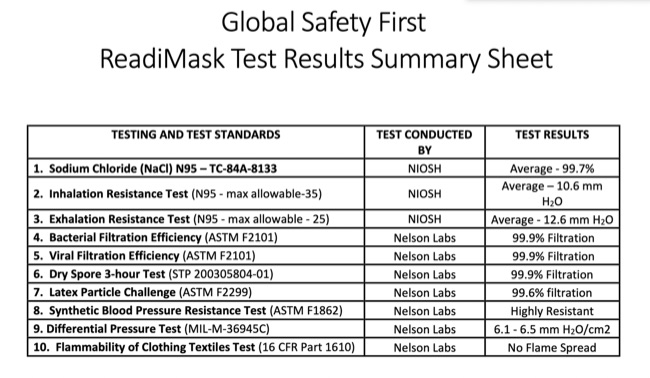 You can see their full test results here, and order them directly from Readimask here.
For extra protection and certainty when wearing the Readimask for extended periods, or reuse, some people like to tape the edges with surgical tape for a sort of 'belt-and-suspenders' approach.
Some people have had success using a small Readimask and fashioning it into a nasal mask, covering the nose, to use when having a dental appointment.
3M AURA N95 MASK
Of all of the disposable N95 strap-style masks, the 3M Aura N95 is, hands-down, the most often recommended. In addition to it fitting a wide variety of face sizes and types, it is secure, gives good coverage, and is easy to put on. It also comes with each mask individually wrapped, making the 3M Aura ideal for handing to other people and asking them to mask, whether when you are out at an appointment, or they are coming into your own home such as a repair person. There are a few styles, the 3M Aura 9210 seems to have the most secure and comfortable straps. This link goes to the 3M website to purchase cases of the 9210, however you can go here to find authorized distributors of the 3M Aura where you can buy boxes of 20.
One recommender said that they have found it very helpful to tape the following instructions to the individually-wrapped 3M Aura; feel free to copy them for your own use:
Instructions to get the best seal with the 3M N95 Aura Particulate Respirator Mask: Pinch the top metal part by the bridge of the nose and pull the cloth down as far as you can under the chin. If you blow air up and can feel it on your eyes you need to pinch more around the nose and flatten it out on the cheeks. When properly sealed the 3M Aura is a highly effective respirators used by surgeons and other professionals.
MICROCLIMATE FULL FACE & HEAD HELMET
The Air2 MicroClimate is a full-face, full-head helmet with 4 built-in HEPA filters as well as fans which create a PAPR (positive air pressure) effect. According to the site, it is "a full faced, fully-filtered super mask that seals around the neck and filters both incoming and outgoing air. AIR uses four HEPA 12 filters around the frame of the mask to filter 97% of 0.30 particles."
It's not cheap, at $299 plus shipping, but it is effective. We know of people who are at very high risk putting on a Readimask, and then their MicroClimate over it. Overkill? It wasn't for them, but it might be for you.
You can read more, and order a MicroClimate at the MicroClimate website.
DISPOSABLE LAB COATS
Some people purchase disposable lab coats to wear to appointments so that they can remove the lab coat when they get out of the appointment and dispose of it before getting back in the car or otherwise going home. You can find a selection of disposable lab coats at, among other places, Walmart.
DISPOSABLE GLOVES
Disposable gloves, such a nitrile, vinyl, or latex gloves, don't just keep your hands clean and safe, they help to keep things from getting under your fingernails. Plus they keep things from getting on your hands when you are in an environment where you may not be able to wash your hands adequately for a while. Disposable gloves are sold at many places, including Walgreens.
GOGGLES AND SAFETY GLASSES
Goggles and safety glasses help to protect the eyes from becoming a vector for Covid and other viruses. There are many types of goggles and safety glasses, each of them fit differently, and differently on different faces. Keep in mind that the less air space between the goggles or safety glasses and your face, the more protective they are, although that can also lead to fogging.
There is a good selection of safety goggles and safety glasses at SafetyGearPro.
Home Medical Devices
NOTE: There is no substitute for seeing a medical provider if you believe you are having medical issues. That said, if you have a medical provider who will allow you to monitor certain things at home and report back to them, that can help them determine whether you need be seen in person or can continue to monitor things at home.
For a list of the Covid-safe telehealth medical providers that have been recommended to us, see here. In particular, Nextera Healthcare has been recommended as having many primary care providers (PCPs) in many states who will do remote healthcare and telehealth unless it becomes obvious that you need to go in to be seen in person.
KARDIA HOME EKG MONITOR
The Kardia Home EKG monitor is a small device that you hold in your hand, about the size and shape of a hot dog roll. You do not need any electrodes or anything else, you just download the mobile phone app, and the Kardia device connects to your phone via bluetooth. Then you put the device on your leg, and hold it in place with two fingers from each hand, thus establishing 3 points of contact which function identically as the 6-lead points of contact on a 6-lead EKG. As Kardia explains it, "The KardiaMobile 6L records a medical-grade, six-lead EKG and provides FDA-cleared determinations of your heart rhythm in just 30 seconds. Six-lead EKGs give you a more detailed view of your heart and more data to share with your doctor. With KardiaMobile 6L, you'll have the ability to detect up to six of the most common arrhythmias, including AFib, right on your smartphone. KardiaMobile 6L does not check for heart attack."
Your EKG strips are stored in PDF form which you can email to your doctor. There is a $9 a month fee to use the full Kardia service (which includes their own cardiologist reading your EKG strips, if you want), however you do not need to join the service for the device to work.
Actual Partial Results Submitted by Recommender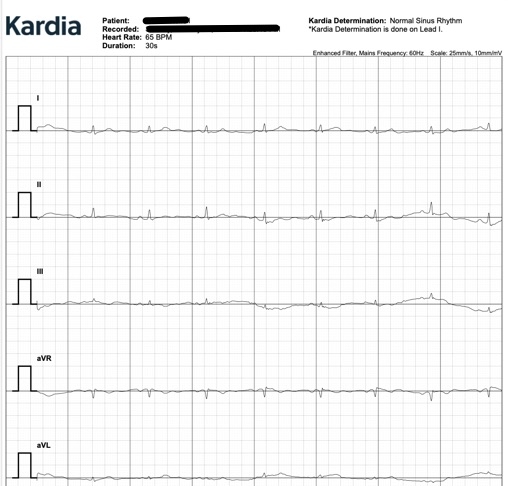 The KardiaMobile 6L EKG monitor retails for $129 and you can get it directly from Kardia here.
DIGITAL BLOOD PRESSURE MONITORS
Home digital blood pressure monitors are easy to use, and can help track both blood pressure and pulse. You can find a selection of home blood pressure monitors at Walgreens.
PULSE OXIMETERS (ALSO KNOWN AS PULSEOX MONITORS)
Pulse oximeters (pulseox monitors) go on your fingertip and measure both your pulse and also how much oxygen you have in your blood. They do this via light, they do not puncture your skin! As the American Lung Association explains, "The pulse oximeter uses a cold light source that shines a light through the fingertip, making the tip appear to be red. By analyzing the light from the light source that passes through the finger, the device is able to determine the percentage of oxygen in the red blood cells."
Covid is known to impact the lungs and ability to breathe, so many people purchased these pulseox monitors, particularly at the beginning of the pandemic, to monitor their blood oxygen saturation levels.
You can find a selection of pulseox monitors starting at about $30 at Walgreens here.
Environmental Devices
ARANET4 CO2 MONITOR
The Aranet4 CO2 monitor allows you to monitor concentrations of carbon dioxide (CO2). Particularly when indoors it can be a quick way to determine the concentration of people who are or have recently been breathing in a room versus how well-ventilated the room is. If you think about the fact that, especially indoors, the air you breath has been in somebody else's lungs just moments before, you can see how this may be a useful thing to know. As Imperial College explains, "We release CO2 when we breathe out, so higher levels of CO2 in a room are related to higher occupancy and lower ventilation. High levels of CO2 can therefore provide an important red flag…".
The University of Colorado also has an excellent article about indoor CO2 levels and Covid here, noting that outdoor CO2 levels are generally 400ppm, so you can take it from there.
Aranet also has a great explanation here.
The Aranet4 retails for $249, and you can purchase it directly from Aranet here.
Home Covid Tests
By now most people are familiar with the rapid antigen tests ("RATs") for Covid; these are the tests that were being given out for free at many places, and also being mailed for free to people through the postal service. There are resources for free home rapid antigen tests listed on our free Covid stuff page.
With the advent of the Omicron variants, many places are recommending swabbing both the nose and the throat or inside of the cheeks (also known as "nasal + oral swabbing") when using a rapid antigen test, while some others do not recommend it. The government of Ontario, Canada recommends it and provides this PDF of instructions: How to swab the nose and also the inside of the cheeks or throat
The rapid antigen tests are not as reliable as are the tests you get in labs as the RATs are susceptible to both false positives (not great) and false negatives (really bad). The test that you get in a lab is a PCR test. PCR stands for polymerase chain reaction and these sorts of tests detect bits of the genetic material of the virus.
There are now at least two home tests that claim to be of PCR quality in terms of how sensitive they are to detecting Covid, and in how reliable they are (having fewer false positives and, more importantly, fewer false negatives). Note that a "PCR quality" test is not the same as a PCR test, they are saying that they are as accurate or nearly as accurate as a PCR test. These PCR-quality tests are the Lucira PCR-quality home test, and the Cue home PCR-quality test.
These PCR-quality tests are pricey, but when you really need to know they can be worth it. Of all of the recommendations for these tests, Lucira is the one that is most recommended by far, and you can often find Lucira PCR-quality tests on sale (be aware that they all have expiration dates, so if you find a sale and want to stock up make sure that they aren't going to expire soon).
You can read about and order each of these tests on their websites, which are here:
Note that some have started practicing what is known as "pooled testing" at home. Originally devised for PCR testing at a lab, pooled testing involves using one test to test more than one person by swabbing two or more people in a group (each with their own swab), and then testing the combined sample. The theory behind pooled testing is that if the pooled test still comes up negative you have just been able to test everyone with a single test. Of course if it comes up positive then you need to do a deeper dive, and test people individually. You can read more about pooled testing at the CDC, and at the Harvard School of Public Health.
—
Covid Safe Providers is free to everyone, and maintained as a volunteer effort. We don't hide our info behind a paywall, use affiliate links, or subject you to annoying videos or ads. But it does cost us money to keep the site going. So if we have provided value to you today, won't you please let us know by putting a little something in our tip jar and including a little note? ❤️
Tip by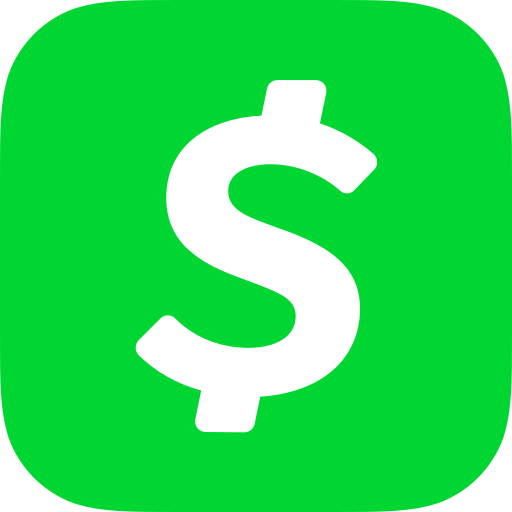 Tip by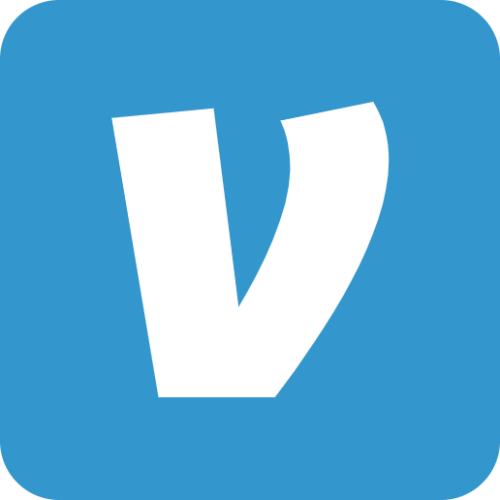 Tip by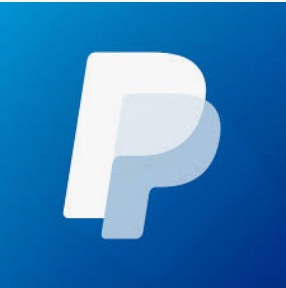 Receipt will come from ISIPP Publishing